Asylum seekers enjoy activities at Thatcham Baptist Church event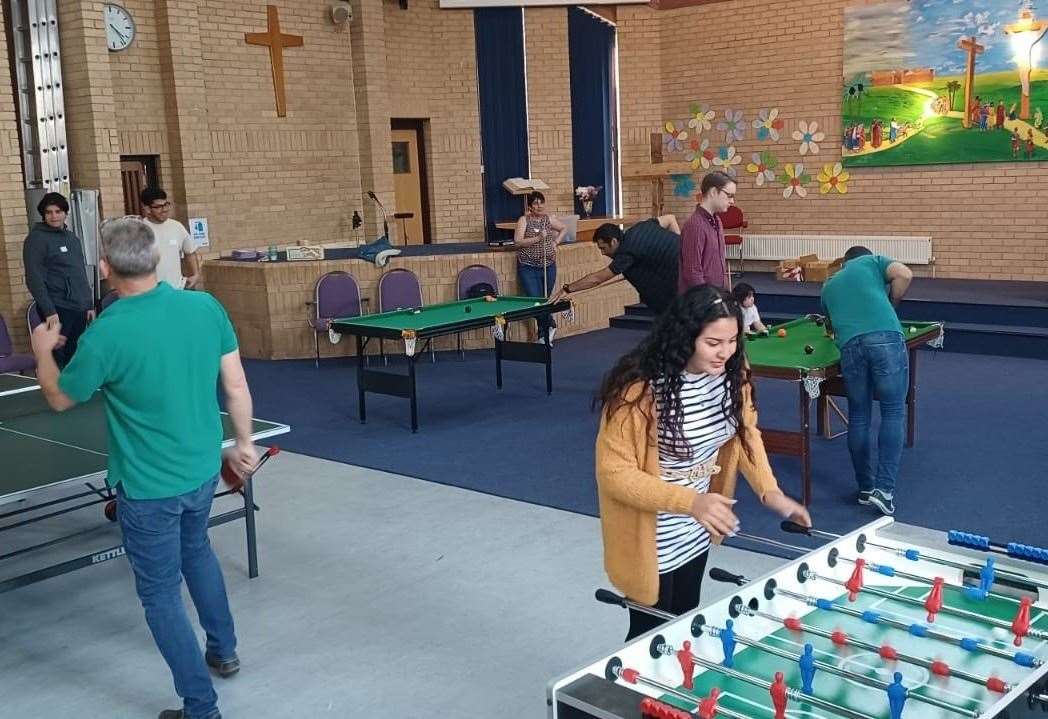 Asylum seekers from a hotel in Thatcham went out into the community yesterday (Saturday) for games, food and socialising.
Those staying at the Regency Park Hotel and some from a hotel in Padworth spent a chilly Saturday afternoon playing indoor games at Thatcham Baptist Church on April 23.
Deacon Rob Sneddon, who had the 'initial vision' of hosting a welcome event, said: 'It was really great getting to know some of our new overseas neighbors and welcoming them to Thatcham and our mission is to share the love of Jesus and this was a very practical way to do it.
"Everyone seemed to be having fun and it was good to start building relationships that way.
"We hope to do more hospitality activities in the coming months."
The asylum seekers, from Iran and El Salvador, played table tennis, jenga and billiards, as well as board games like chess.
They had the opportunity to have their nails painted during a treatment session, mindful coloring and snacking on the food and drink provided.
The Church was informed early on of the arrival of asylum seekers at some hotels in West Berkshire and liaised with West Berkshire Action for Refugees and Café Calais with the aim of reaching out to asylum seekers. asylum and to welcome them for these activities.
Reverend David Taylor said: "We are absolutely delighted to welcome our fellow asylum seekers to our community in Thatcham and share the love of Christ with them.
The 15 asylum seekers who attended said they enjoyed the event and wanted to cook for themselves, which the church hopes to facilitate for a future event.
Deacon and teacher Carol Collis said: "At first we thought we would cook them a meal, but they really miss their own food.
"A good number of Iranians had been to church before, so we know some of them, a little bit, about the services, groups and things at the church.
"It was really nice talking to all of them and getting to know them as individuals, a lot of them are quite young, they have their own hopes and dreams."
West Berkshire Action for Refugees said it regularly updates its Facebook page with items needed by refugees as well as other forms of assistance needed.
---
---