5 Questions: Life Lessons for Five Generations of the Kipps Family in Cumberland County | Carlisle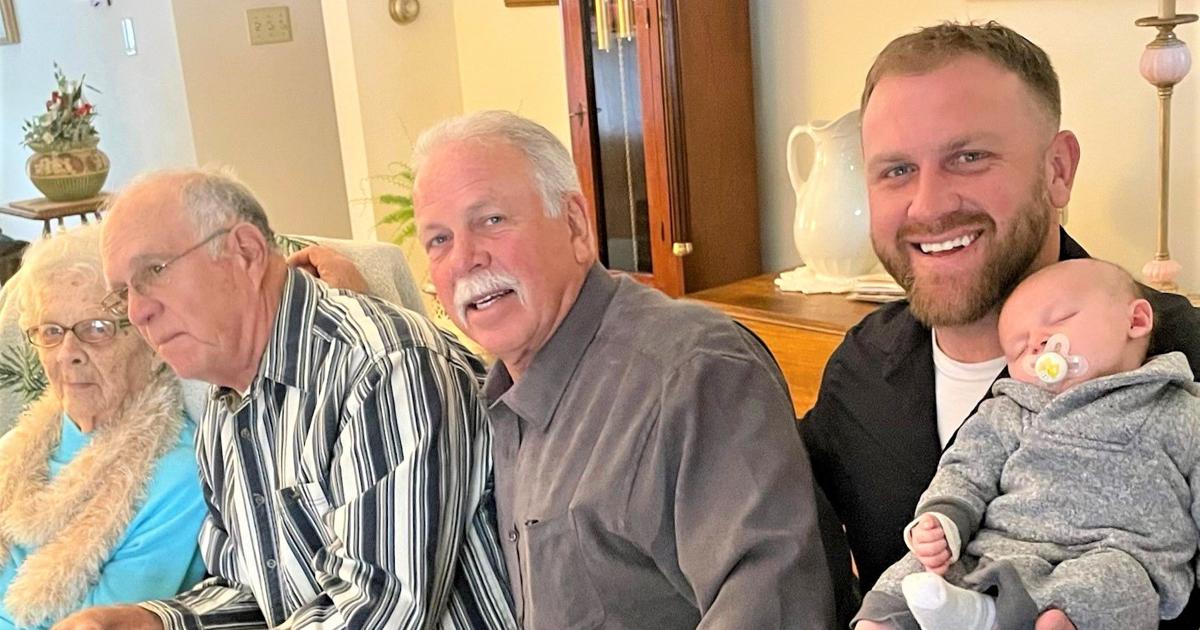 It's typical for each new generation to learn from the generation that came before them, but for 2-month-old Kohen Kipps of Newville, he has four previous generations to choose from.
Kohen is the newest member of a local family with five living generations.
The family took photos together last weekend, marking the first time all five generations have been together since Kohen was born on December 12.
The generations of the Kipps family are:
Shirley Kipps, 99, Carlisle
Cletus Kipps, 79, Carlisle
Jeff Kipps, 60, Shermans Dale
Joseph Kipps, 32, Newville
Kohen Kipps, 2 months, Newville
In today's five questions, The Sentinel gave each family member a chance to share their thoughts and offer advice to baby Kohen's generation.
Q: How long have you lived here and what has changed during that time?
Shirley: "Fifty years was nice. I had fun when I lived up there. And I didn't expect to live this long, but I'm happy. And, I think it's because I ate well and exercised, I think that helped me a lot.
Q: What advice would you give Kohen and his generation?
Shirley: "It was the first time I held the baby. I'll help him grow and explain things to him, you know?
Cletus: "Spend time with your family and honor God by going to church and putting Bible truth in proper perspective in your life."
Jeff: "No matter how hard things get, never give up, keep the faith and always remember there is someone worse off than you."
Joseph: "Use common sense, set goals, work hard to achieve them, save your money.
Q: How difficult is it to bring five generations together during a pandemic?
Cletus: "Our family lives very close together, so we call each other and make plans."
Jeff: "Actually, it wasn't as hard as I thought. Luckily we weren't confined.
Joseph: "It's not difficult for my family. Things are as hard as you want to make them, so for some maybe harder than others.
Q: How common is it for a family to have five generations living together?
Cletus: "This is the first time we've done this; it won't be difficult at all.
Jeff: "It's not very common at all. And now that women are having children much later in life, it will become even rarer. But I was lucky that it happened twice in my family. The last time I was part of five generations was in the early 90s and it was on my mother's side. This also included my son, Joe Kipps, who is also part of this one.
Joseph: "I guess it's not extremely rare, but I get the feeling that girls get married and change their names, it's rarer that they all still share the same last name, let alone live in the same region."
Q: What does this photo (of the five generations) mean to you?
Shirley: "It means a lot to me. I'm happy now, with the little ones. He's a pretty little boy.
Cletus: "It's wonderful that our family line lives on. What a blessing."
Jeff: "That says it all. It means that our family has been very blessed.
Joseph: "These photos mean a lot to me, a special moment for my whole family. My wife and I are blessed that one day our son will be able to see his family tree a bit in depth and appreciate the fact that he was able to meet his great-great-grandmother who is almost 99 years older than him. Really great."
Maddie Seiler is a reporter for The Sentinel and cumberlink.com covering Carlisle and Newville. You can contact her at mseiler@cumberlink.com and follow her on Twitter at: @SeilerMadalyn